A Glamorous Alfresco Dinner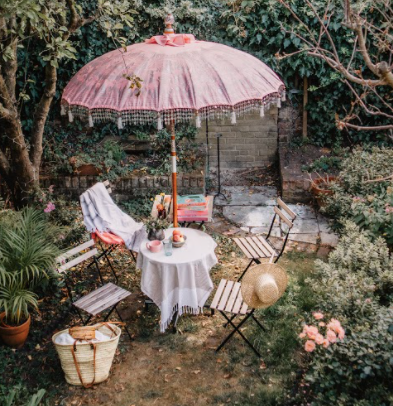 There are two factors in a glamorous alfresco dinner- firstly it has to look fabulous but more importantly you need to feel fabulous.
This Ouroboros ring, designed by the 'never knowingly underdressed' Olive Young, is pretty much guaranteed to make you feel about as glamorous as it gets. Her designs are bespoke, made from gold, silver and hand carved gemstones.

Wonderful jewellery calls for a marvellous dress and this Kapara one is divine. Made from modal satin it looks like silk, feels like cotton, and is incredibly easy to wear. Not only will you look and feel great in it, but you'd also be helping others. Each dress sold buys a day uniform for one of the boys of the Taabar Street Children Shelter in Rajasthan, India.
The uniforms are stitched by The Jagruti Women's Empowerment Center, a team of vulnerable women who have left marriages due to domestic violence and then have been unable to get work. The center teaches them how to sew and provides them with employment.
During the evening a parasol can create a convivial microcosm underneath, where people feel comfortable and relaxed. All of our parasols are fabulous, but Big Liberace is among the most glamorous with its golden tassels and inner canopy printed with gold. As the light fades candle light glints on the golden adornments adding a feel of opulent magic.
Make your dinner table splendid with luxe but paired back tableware and a centerpiece of flowers and votive candles.
DHAJ make the most incredible brass cutlery, it comes in a protective indigo cotton roll- it's the bees knees and utterly gorgeous. Designed by the incredibly talented Simon Marks, indigo expert, pastry chef, theatrical costumier and creative of the ultimate tableware.
Astier de Villatte are the creme de la creme of porcelain. They have a pared back, pale glaze and pleasing irregularity. They are based out of an antique Bastille workshop that used to belong to Napoleon's personal silversmith. Pretty special stuff.
For the center of the table use brass candlesticks and tapered candles, or glass votives, lanterns and vases. Incorporate fruits with sumptuous florals to enrich your table.
Most importantly have fun and keep the food coming and drink flowing. Cook unfussy food that people can enjoy, but not think about too much. A tagine, light stew, or summer ratatouille with whatever carb you desire is the perfect fork food- so people can focus on chatting rather than chasing food around the plate.