Thrissur and the first parasols I ever saw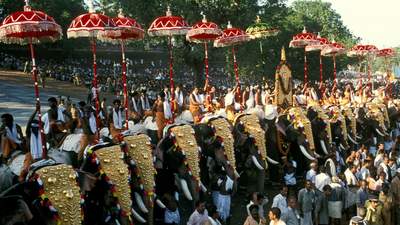 As I wrote my last post about Jairam I contemplated a recipe for biryani. Then I remembered the best biryani I ever ate, which serendipitously coincided with the first time I ever saw the Kerala temple umbrellas that started me on this journey. I'd arrived in Kerala to visit someone I was, at that time, in love with. That is as romantic as this story gets. Based on a vague recommendation we paid an elderly chap called John to drive us north to a place called Thrissur where a festival called Pooram was taking place. John drove an old white ambassador car very slowly, asking for directions at every junction and forgetting them again during the drive inbetween. Thrissur was a dusty mess of people milling in grey streets between unprepossessing high rise buildings clad with dirty once-mirrored one-way glass. It had a repetitive cycle of mobile phone shops, bakeries, sweet shops and clothing stores with colorfully swathed headless mannequins swinging outside.
The town centres around a large Hindu temple which is very beautiful and Thrissur's saving grace. Every year there is a Pooram, a huge week long temple festival. The day we saw was the main Pooram which involved lots of elephants, fireworks and no health and safety or animal welfare.
The whole thing is religious elephant umbrella top trumps game laced with concerning attitudes towards living creatures. I will do my best to explain the concept, it might do well in a Japanese game show
There are two factions comprised of groups of temples from the west and east. Each temple brings their own group of highly decorated elephants, and allegedly if they can't afford an elephant then a horse wears an elephant costume.
One row of elephants stands in front of the temple facing the crowds and another row of elephants stands facing them at the other end of the road. In between the elephants is a huge crowd of people, largely men (and at that time me being groped).
Drums beat and bells ring, the men wave huge white feathery fans and then they raise up incredibly beautiful umbrellas. The crowd roars. The men on opposing elephants then beat their drums and wave fans before erecting even more elaborate umbrellas.
And so the game continues. Then, at a point in the rules which was unclear to me, the row of elephants in front of the temple began head towards the town, mowing through the crowd of people.
At this juncture it seemed a good idea to leave for a while so we went and ate The Best Biryani Ever. It was chicken and contained crispy onions, dried berries and flaked nuts.
Bolstered by biryani we returned to the crowd and found another umbrella top trumps in progress. By this point it was dark and madnesses swirled in the humid air. The umbrella game had raised considerably to include neon lights and models of Hanuman (the monkey god) smoking something suspiciously like a spliff.
I've never again had the privilege of being in such a joyful, unfettered, ungoverned crowd. But I've also never been touched up so much. I retreated to the outskirts of the celebrations where elephants walked around the town accompanied by marching bands and men holding fire torches.
As we left Thrissur the elephants began to speed up and raced around the town whilst the men with fire set off towers of homemade fireworks.
Thrissur is not my favourite place. It was once beautiful but sadly nothing remains of the Vedic architecture with sloping tiled roofs, courtyards and thick walls, the old fashioned buildings have been replaced by short sighted middle eastern mall architecture which is already suffering in the heat and humidity.
During my kung fu parasol quest I returned to talk to the temple umbrella makers. I was driven by a lovely man from Kochi called Najeeb, and we were shouted at, driven at and they overcharged us for lunch.
On the journey back to Kochi we agreed that we would never return to Thrissur. The traffic was terrible as we made our way home and the road was filled aggressive drivers. Najeeb informed me that every number plate with an 8 came from Thrissur. It was a fun eyespy game. 100% of the worst drivers had number plates with 8 in. That sums up Thrissur.
Two great things came from Thrissur for me (and for you) biryani and parasols. Happily I found a lovely umbrella maker who makes umbrellas that line the roads during celebrations and has nothing to do with Thrissur.
---
The Best Biryani Ever. Thanks, Thrissur
Biryani is a labour of love in layers like a trifle.
It happens in stages:
- a marinating chicken stage

- a cooking rice stage

- a making masala stage (cooking the spices, tomatoes, onions etc)

- then build your own Biryani.


I have made this with a bottle of chilled beer as company.
- Step one. Open your beer.



---
The chicken
- Get some chicken thighs and chop them in chunks.

- Plop out a pot of greek yoghurt into a bowl and add some salt, a teaspoon of chilli powder, garam masala, cumin seeds, turmeric, grated ginger.

- Bung in a bit more chilli powder if you like it spicy, and some sliced garlic. Give it a mix and bung in the chicken.

-  Cover the bowl and put it in the fridge. Have a swig of beer.


Whilst you're there put a dash of hot water in a mug and put some saffron fronds in it. Forget about it for a while.
---
The rice
- Wash some basmati. For however many grams of rice you used add 100ml more cold water and put them in a pan together (ie. If you've got 200g rice use 300ml water).

- Bring to the boil and then turn the heat off and leave the rice to soak up the water. You're going for parboiled here, people. Turn it out into a bowl to cool and fork it through.
Have another swig of beer.
---
The masala
- Get some ghee and thinly slice an onion per person.
- Gently fry in the ghee until nice and crispy. This is a slow loving process and might take the length of time it takes to drink the rest of your beer or an episode of the Archers, depending on time of day.
- Put half aside to go on top at the end.
- In the same pan gently fry some flaked almonds, cashews, dried barberries or sultanas. Add them to your onions for later.
- To the remaining onions add a bay leaf, about 5 cardamom pods, same of cloves, a stick of cinnamon, some sliced garlic cloves and a good pinch of salt.
- Teaspoons each of… grated ginger, turmeric. peppercorns, ground coriander, cumin seeds. Stir around a bit and feel all cheffy.
- Cut up a couple of tomatoes and bung them in, with a pinch of sugar if they're cheap supermarket ones that would break a window if thrown.
- Cook them until they're a bit sauce-like and then throw in the chicken (but not the marinade) and cook for about 20 mins.
---
Build your biryani.
- Heat up the oven to 180.
- Ideally you'll have a cast iron cooking pot with a lid. Grease it.
- Get ready some ghee, your onion nut fruit mix, chopped coriander, the cooked chicken, rice and that saffron water we forgot about.
- Some people hate coriander and think it tastes like soap. If you are a people pleaser you can leave the coriander out.
- Spoon about a third of the rice into the cooking pot, sprinkle it with some of the onion fruit nut thing, some saffron water, a bit of the coriander and dots of ghee. This is not a health food.
- Put half the chicken over this.
- Then another third of the rice with more of the onion fruit nut thing, saffron water, coriander and dots of ghee.
- Repeat.
You've worked hard, perhaps another beer is in order?
Put the lid on and put it in the oven around 8pm. Take it out during the last break of Grand Designs. Enjoy the bragging rights that come with making your own biryani as you watch Kevin McCloud mete out solemn judgement and hindsight.