5 ways to make your garden magical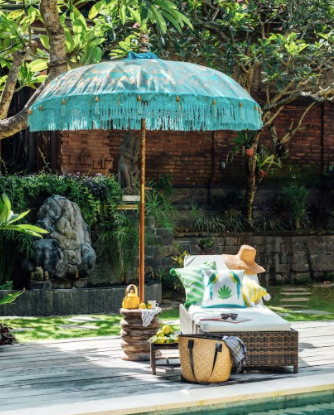 A magical garden in my imagining is filled with flowers, mildly overgrown with twinkling lights and delicious scents. The obvious way to achieve this is to grow wisteria everywhere, so that the gorgeous flowering creeper twists and turns along walls, up trees and spreads cascades of flowers.
If you don't have a time machine to fast-forward 2 years whilst your wisteria grows, then you can achieve the same enchanted overgrown feel with potted shrubs, herbs and bushes. Lavender and rosemary grow beautifully bushy and smell delicious. For a big statement my current favourite, which is a bit of an indulgence, would be to buy an old olive tree in a pot.
Next comes lighting. You want to create an intimate charm and lighting is key. Lanterns can hang from trees, or stand on the ground among the plants. You can hang fairy lights around the garden, or even from the inside of a parasol (which is the next and inevitable must have on this list). These lights are available in a bundle, which seems a ticket to an easy life...
Parasols, there is nothing better to create a whimsical atmosphere than our most magical parasols Cher and Stevie. Cream and pale pink with hand painted silver ink designs, hand carved poles and silver fringing that tinkles and sparkles in the breeze. They're like a fairy story, and as the evening draws in the silver fringes glint and glimmer in the light cast by the lanterns.
Make your fairytale garden comfortable with some lovely seating. I'd opt for a shabby chic style- either white wrought iron or white painted wood.
Then pile up sumptuous and pretty cushions such as our pink and grey peacock ones, with gold tassels and filled with the finest duck down. Nothing makes things more magical than being comfortable,